Swapnil
Goals
Swapnil had put on a lot of weight since moving to London and wanted to get back into good shape before he went home to India at the end of 2012. Not only had Swapnil put on a lot of weight but because of years of inactivity he was also very weak, so we geared our training towards dropping fat whilst still building functional strength and lean muscle mass.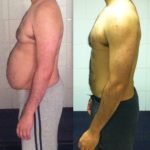 Achievements
Swapnil's pictures and statistics speak for themselves as he dropped 18.5kg in body weight with his waist dropping by 27cm (10.5 inches, close to a foot). However, the real achievements were going from not being able to do a single press ups or pull up to doing 10 pullups, over 30 pressups and deadlifting over 100kg all within the same work out.
"I have 200% more energy, I feel so much stronger and after not being able to do a single press up I'd now say I was the "Press Up King!""