Robin
Goals
Robin had not been to a gym ever before and came to us needing to drop bodyfat, lose inches from his waist and build some much needed strength.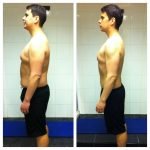 Achievements
Robin dropped 15kg and 11% body fat over the 12 weeks. His waist dropped 6" and we managed to build enough muscle on his upper body to get the V shaped look that he desired. The goal now is to keep pushing forward to get the ripped look to finish the job.
"It's not over yet but I now have the knowledge and the confidence to keep the weight off forever!"