Fitdad Week 1
Week 1 Day 1 I read the plan that Gabriel has sent me and my heart sinks as I knew it would.  In my head I was thinking 6 meals a day comprising of just steak, chicken, sweet potato and broccoli but the first thing I notice is that there are 7 meals with only one plan for the whole unknown length of time!!
One plan one option, steak for breakfast with oats and pineapple every day for the whole 11 weeks with no other options not even my beloved eggs.  The first thing my head does is break down the macronutrients so that I can start creating other options to keep me a bit more upbeat about 7 meals a day.  The second thing I do is start trying to work out exactly why everything is to be eaten in the right order  and even text over a question that only someone who knows nothing about nutrition would ask:
"Is it okay to eat another white fish if I can't find Talapia?"
Ridiculous 5 minutes into being the client I've become annoying.  "White fish is white fish you gimp" I think thats what Gabriel wanted to reply but kindly he just said "yes".
The training is also a little harder than I would normally do for myself especially the leg workouts where, I am sad to say, I do tend to go a little easier on myself than I should even though I always go hard on my clients during the warrior workout.
Training legs gives your body a bigger growth hormone and testosterone boost than upper body so skipping or even "going easy" on legs is pretty criminal and I have been guilty!  Before receiving my plan I was enjoying a nice bit of 5×5 training involving big lifts and rest periods of 150 seconds so being ordered to drop my rests to only 60 seconds is going to be fun.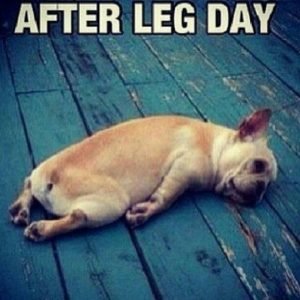 I always bang on about the importance of consistency and these next 10 weeks really are going to show how vital my ability to be consistent is.  Can I get home every day at 9pm and prepare seven meals, weighed to exact measurements, after being at the gym since 6:30am and getting up at 5am?  You'll notice it will be impossible for me to sleep the necessary 8 hours a day that I think is vital for optimal function so I think this will actually be my biggest challenge.
Week 1 Day 2 – I'm sick I'm actually sick what a joke!! Monday night and I'm feeling like crap.  I'm aching all over to the extent that I can barely turn my head and the boys at the gym are laughing at the fact that I look like Michael Keaton in a Batman suit but much more hunched over………..and with that Week 1 was over before it started!!! #pathetic